Mesmerizing Thimphu Sightseeing
Bhutan is a Himalayan kingdom that is not only famous for its mesmerizing landscapes and breathtaking views of mountains but it is also famous for its rich Buddhist culture, friendly local people, and history. Thimphu is the capital of Bhutan which is often selected by tourists to indulge in the Bhutanese lifestyle.
The Thimphu Valley is famous for its political significance since it is the home to the administrative seat of the King. Along with this, the colorful monasteries, sightseeing places, adventure activities, natural beauty, and museums attract several tourists every year.
Kamakhya Bhutan is a reputed travel agency in Jaigaon that organizes trips for tourists considering their personal travel needs and interests. You can contact us to create a detailed itinerary for Thimphu sightseeing so that you get to explore all the hidden corners of the place with proper comfort.

Best Time To Visit Thimphu
The best time to visit Thimphu is during March-May and September-November because, during this season, the weather of Thimphu is extremely pleasant with clear skies. This creates a favorable ambiance not only for sightseeing but also for various adventure activities.
We also recommend you visit Thimphu during the spring season because of the famous Thimphu Tsechu, which is the colorful national festival of Bhutan. You can witness the vibrant masked dance and enjoy the Bhutanese cuisines and traditions at this festival. You can book an affordable Thimphu sightseeing tour package from Kamakhya Bhutan to make your trip memorable.
Top Sightseeing Attractions In Thimphu
Thimphu is a splendid tourist destination, suitable for honeymoon, family, or solo vacation. The capital has everything you may wish for from a tourist destination and the Thimphu packages from Kamakhya Bhutan aim to deliver a quality holiday plan at an affordable cost.
Any normal Thimphu vacation package starts from Nu15, 000 which is equivalent to approx 15,000 rupees in value. Let us now explore some of the places in Thimphu that you shouldn't miss on your next vacation-

National Memorial Chorten
Weekend Market
National Institute for Zorig Chusum
National Library
The Folk Heritage Museum
Clock Tower Square
Buddha Dordenma Statue
Royal Textile Academy
Why Choose Kamakhya Bhutan?
Hassle-Free Booking
Customizable Tour Packages
Affordable Rates
Car Rental Facilities
24/7 Online Assistance
Hotel-Booking Services
8+ Years Of Expertise
Professional Travel Agents

If you're ready to enjoy your next vacation while exploring Thimphu sightseeing, then feel free to contact Kamakhya Bhutan to create your personalized itinerary. In case of further queries, you can call us at +91 99325 02310 or visit our website.
SPECIAL OFFERS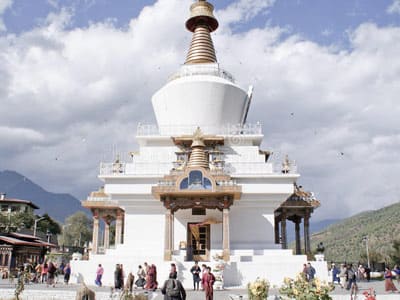 Memorial Chorten
Thimpu
This white stupa with golden spires was erected in the year 1974. The monument was to honor the father of modern Bhutan, the third king, His Majesty Jigmee Dorji Wangchuk. THe stupa is also known as Thimpu Chorten.
Book Now
SPECIAL OFFERS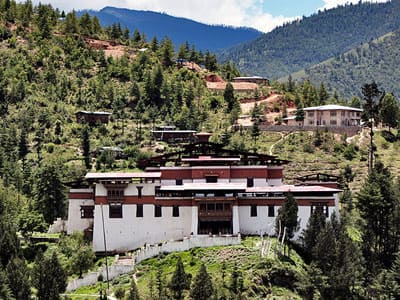 Simtokha Dzong
Thimpu
About 5 km from Thimpu lies the beautiful and vintage Simtokha Dzong which was built in 1629 by Zhabdrung. It was one of the first Dzongs which served both monastic and administrative facilities and one of the oldest.
Book Now
SPECIAL OFFERS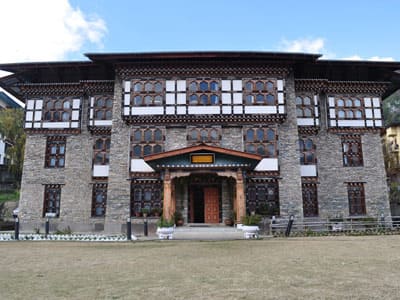 National Library
Thimpu
The National Library of Bhutan is situated in the capital city of Thimphu. It was established in the year 1967 with a motive to preserve and promote the rich cultural and religious traditions of Bhutan.
Book Now