Thimphu-Bhutans Capital with Majestic Beauty
Thimphu presents a unique blend of cultural day life as well as the modern nightlife. Festooned with designed buildings and lined vibrant streets, there is no place better than Thimphu to get the ultimate relief from your daily chaotic life. You can enjoy the daily life by exploring monasteries, doing adventure activities and the nightlife includes clubs, bars, pubs where people come to enjoy which are not that common in other parts of this country. Your trip to Bhutan will definitely be incomplete by exploring the charm of Thimphu.
Have you any Doubt about the route of Thimphu?
If your answer is yes, then we will say don't worry! We are giving you detailed information about it-
The easiest way to reach Thimphu is by taking a flight from your town to Paro International Airport. And then you can hire a cab or rent a car to reach Thimphu.
Distance from Paro International Airport to Thimphu
- 47.6 km
The nearest railheads are New Jalpaiguri Railway Station and Hasimara Railway Station. From the station, you can opt for the shared taxies to reach Thimphu via Phuentsholing or Jaigaon road.
Let's make your Bhutan Holiday trip more Organized-
We will prefer to make your vacation in Bhutan with the travel agency for the hassle-free as well as the more organized trip. Avail
Bhutan travel agency in Jaigaon
who will make your whole trip memorable for a lifetime at a reasonable price. However,
Thimphu Sightseeing cost
may vary according to your choice of accommodations, foods, transport etc. The approx cost is Rs 14,000 per person for exploring Thimphu sightseeing places.
Most Astonishing Local Sightseeing places in Thimphu!!
Thimphu is a place with the full of mystery that will surely blow your mind. You should not miss the glory of
Thimphu local sightseeing places
while in Bhutan. Let's take a look at the famous places in Thimphu-
1. Changangkha Lhakhang- 'Oldest temple in Thimphu'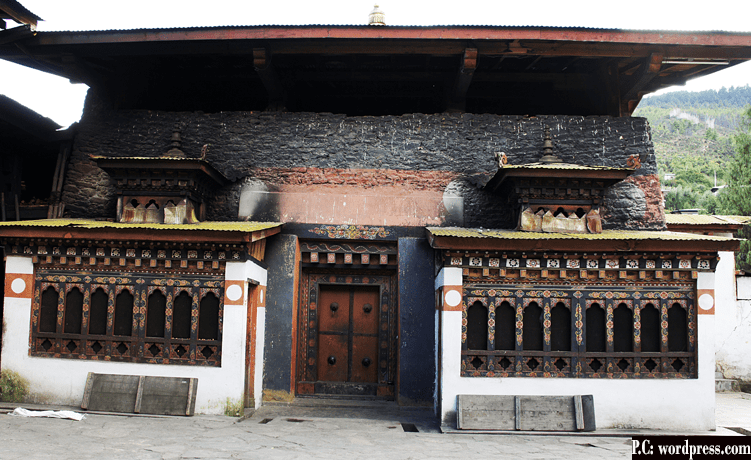 Perched on top of a ridge above Thimphu, Changangkha Lhakhang offers a mesmerizing view of the surrounding Thimphu valley. This temple symbolizes the faith, tradition, and architecture of Bhutan. Here, you can explore a number of black and golden colored prayer wheels.
Highlights:
Distance from Thimphu-
2.2 km
Best time to visit-
September to November
Opening Hours-
8 am to 5 pm
2.The Folk Heritage Museum-'Presenting the culture of Bhutan'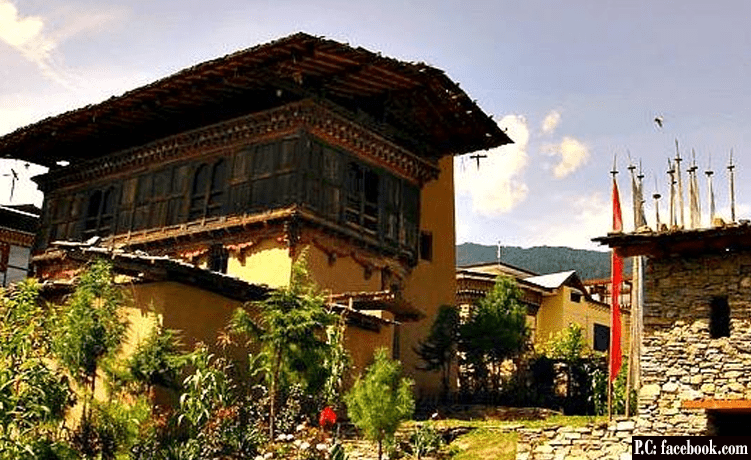 Want to indulge in the Bhutanese lifestyle? Then The Folk Heritage Museum is the right place for you. A three-storey timber building with the appearance of a traditional farmhouse, this museum provides the tourists an insight into the culture & rural life of Bhutan. Here, you can explore Brokpa yak-hair spider hats, antique noodle express leopard skin bags and many more.
Highlights:
Distance from Thimphu-
1.8 km
Best time to visit-
September to November
Opening Hours-
9 am to 5 pm
Price:
INR 150
3. National Library- 'Holds the Buddhist Literature of entire world'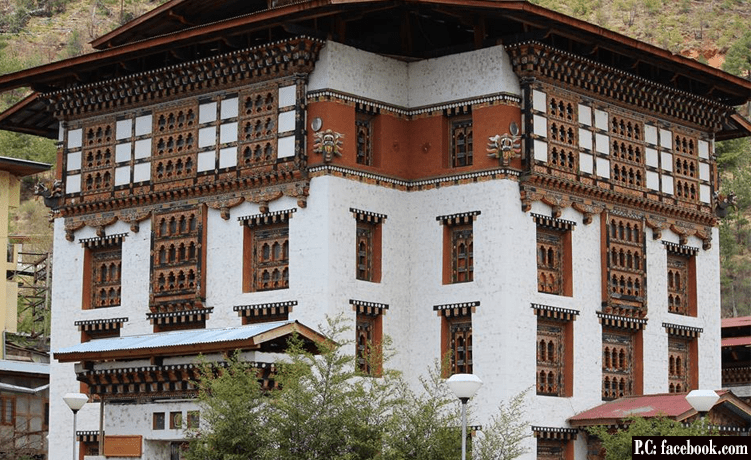 National Library is a two-storied building with a wide collection of 6100 Bhutanese & Tibetan books, xylographs, and 9000 printing boards. It is equipped with computers, microfilm section, separate room for wooden books and much more.
Highlights:
Distance from Thimphu-
1.6 km
Best time to visit-
Throughout the year
Opening Hours-
9 am to 5 pm
4. Handicrafts Market- 'A Hub for Shopaholics'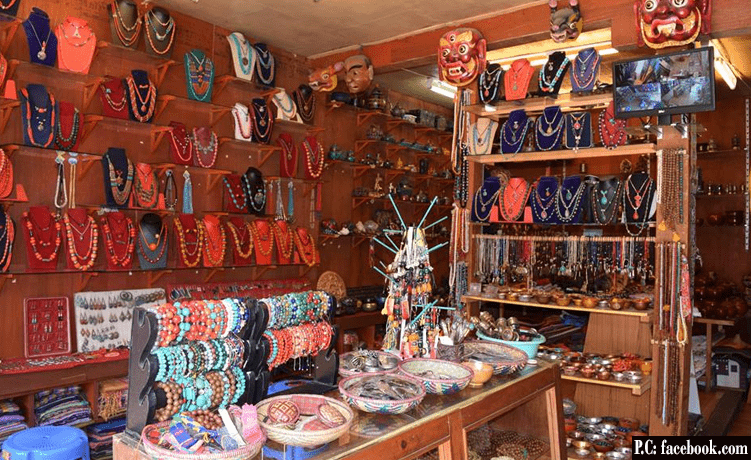 Handicrafts market encompasses various vibrant shops which are crafted from bamboo and are lined neatly in a row at a mile's stretch. The shopkeepers mostly are local Bhutanese women who welcome you with a warm smile.
Highlights:
Distance from Thimphu-
1.2 km
Best time to visit-
Throughout the year
Opening Hours-
10 am to 6 pm
Things to buy-
Authentic handcrafted apparels, bags, wooden items, scroll painting, masks, and jewelry made of gold, silver.
5. Thimphu Chorten- 'A holy shrine with elegant beauty'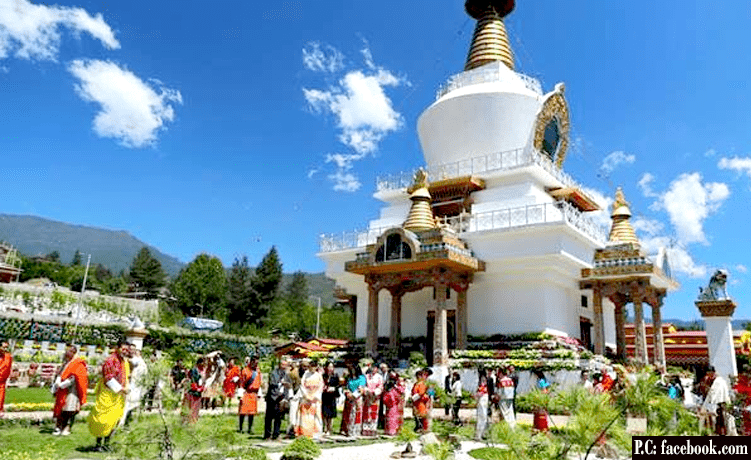 Built in 1974, Memorial Chorten is one of the most important religious places in Bhutan with an outstanding illustration of Buddhist architecture. The whitewashed walls with a golden spire and intricate architectural patterns of Thimphu Chorten will make you speechless.
Highlights:
Distance from Thimphu-
2.6km
Best time to visit-
September to November
Opening Hours-
7 am to 9 am
Alluring places to visit in Thimphu at Night that'll make your crazy-
Thimphu is not just a place of enjoying daily life, but also the nightlife as well. The grace of bars, nightclubs, pubs, colorful shops, greedy foods, and the pubs turn Thimphu just like a Bridal queen. The nightlife of Thimphu is an ideal place for the partygoers. Here is a list of those places where you can enjoy the most exciting nightlife in Thimphu are-
Mojo Park
Space 34
Vivacity
Club Ace
Om Bar
Benez Bar
Lugar Cinema Hall
Zest Bar and Longue
Still Thinking? Don't be! Pack your bag and get ready for your next vacation trip to Bhutan with your family or friends.
Popular FAQs-
Q. What are the most exciting adventure activities in Thimphu?
A.
The most popular adventure activities in Thimphu are Trekking, Paragliding, River Rafting etc.
Q. What are the best hotels to stay in Thimphu?
A.
The most comfortable hotels in Thimphu are Hotel Norbuling, Le Méridien, Wangchuk Hotel etc.
---