Thimphu- a happiness on Earth
Thimphu is the capital city of Bhutan and is one of the most visited destinations in Bhutan. It is a small, charming capital city which is also the smallest in the world. It offers a unique skyline with the tall building built in a traditional Bhutanese style and it offers an old charm of the Himalayan Kingdom along with monasteries, temples, museums and a distinct heritage character.
Access to Thimphu:
By Air:
After you reach Paro International Airport, you can travel to Thimphu by hiring a car located at a distance of 51 kilometers. It takes approximately 1 hour 21 minutes.
By Rail:
If you want to travel by train then the best possible way is to travel to Hasimara, then by car or taxi reach Jaigaon or Phuentsholing border. Then take a taxi to Thimphu.
By Road:
You will get hired cars or taxis from Siliguri or you can book from before and reach Thimphu via Phuentsholing-Thimphu highway located at a distance of 322 kilometers. It takes approximately a time of 8 hours 51 minutes and you can enjoy the beauty of Phuentsholing.
Best hotels to stay in Thimphu:
There are many
best hotels in Thimphu
for a lovely and comfortable stay and explore the alluring charm of Thimphu. Listed below are few of the
hotels in Thimphu with the tariff
for you to choose the most appropriate hotel for a luxurious stay.
1-Khamsum Inn:
This hotel is located in the center of administrative and commercial of the Thimphu City. It is a family run business hotel with all available modern facilities. They ensure a personalized hospitality and comfortable atmosphere for the guests.
Services provided:
24 – Hours front desk and security
Wireless internet for all rooms
Restaurant, Bar, and Cafe
Laundry & Dry cleaning
Travel services
Baggage storage
Digital TV
Banquet & Meeting facilities
Tariff:
2,263 per person
Address:
Phenday Lam, PO Box- 810, Thimphu, Bhutan
Contact No:
+9752328262, 328272
Website:
khamsuminn.com
2-Hotel Thimphu Tower: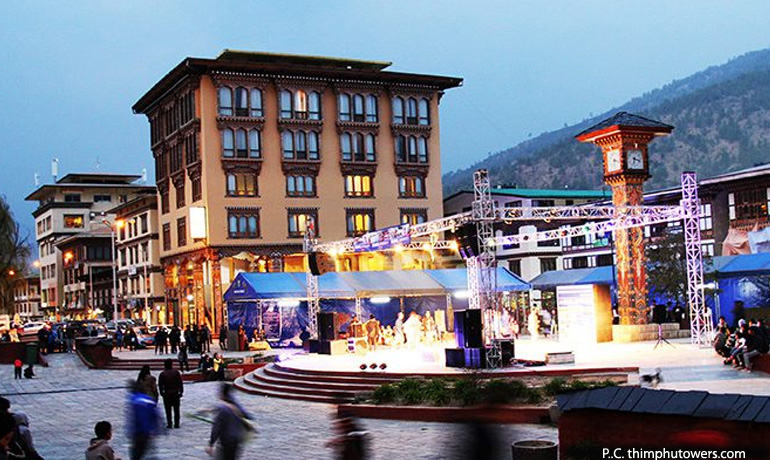 Located in the heart of the capital city of Thimphu, it is the best hotel in Thimphu with friendly staffs and wonderful rooms. A hotel for pleasure, recreation will give you the experience of Thimphu with a difference.
Services provided:
Airport Transfers
Restaurant, Bar and Cafe and Catering
Free Wi-Fi internet service for Guests
Room Service
24-Hour Front Desk Service
Gift Shop
Laundry Service
Elevator/Lift
Luggage Storage
Mini Library
Parking
Taxi Service (charges apply)
Tariff:
INR 2,763 per person
Address:
PO Box No: 194, Clock Tower Square, Thimphu, Bhutan
Contact No:
+9752335367
Website:
www.thimphutowers.com
3-Pedling Hotel and Spa: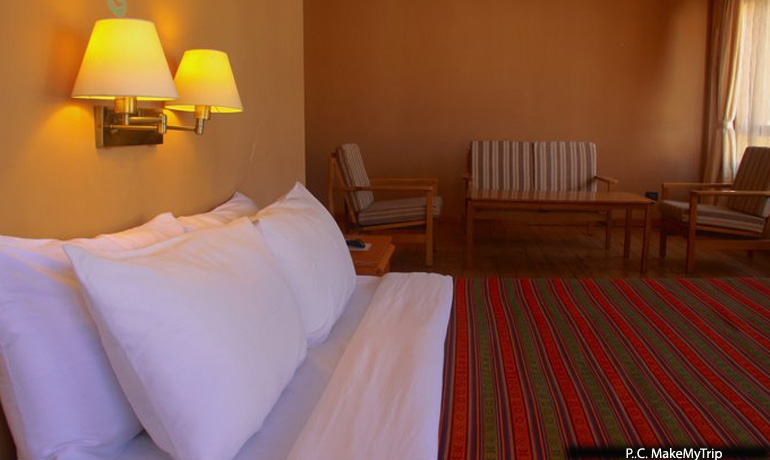 Located in the heart of the business and shopping areas of Thimphu, Pedling Hotel and Spa is the most popular hotel for the outsiders. The staffs of the hotel are involved in customer retention by providing genuine courtesy and service.
Services provided:
Bar
Front desk service
Room Service
Laundry service
Luggage storage
Spa and Fitness facilities
Multi-cuisine restaurant
Attached bath
Cable TV
Choice of double & twin beds
Complimentary bottled water
Wi-Fi
Mini fridge
Phone
Room heating
Tea/coffee maker in rooms
Tariff:
INR 2,272 per person
Address:
P.O Box: 976, Thimphu Bhutan
Contact No:
+975-2-325714
Website:
www.hotelpedling.com
4-Hotel Phuntso Pelri: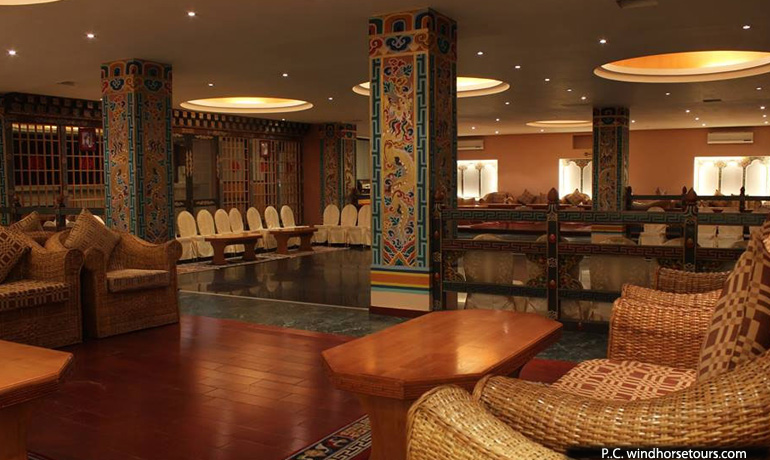 Phuntso Pelri hotel lives up to its lofty name of "Place of Great Contentment" which offers its guests an exceptional service. The staffs are friendly and try their best to provide the ideal relaxation keep you revived for another day of adventure.
Services provided:
A multi-cuisine restaurant serving continental, Chinese, Indian and domestic liquor.
Cable TV in the room.
Laundry Service.
Wi-Fi in rooms
Coffee Shop
Turkish Spa & Beauty Salon
Shopping Arcade
A parking lot for guests
French panel heaters in rooms
Tariff:
INR 2,554 per person
Address:
Dondrup Lam, Thimphu, Bhutan
Contact No:
00975-2-334970 / 71 / 72
Website:
bhutanhotels.com.bt
5-Bhutan Suites: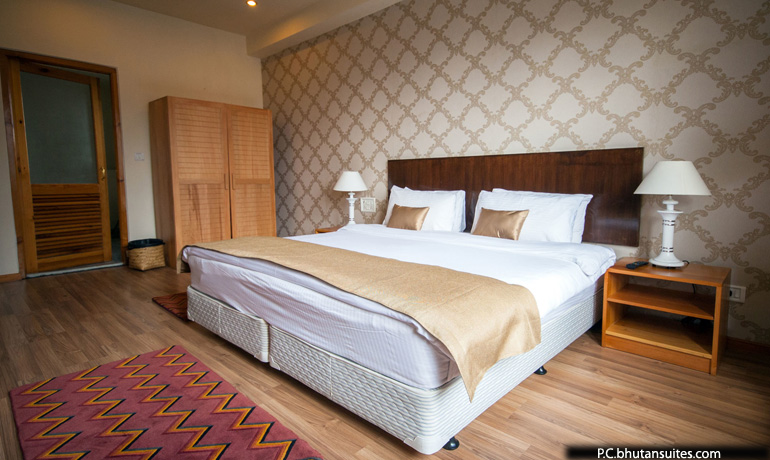 Bhutan Suites works with the aim of providing the guests with a home away from home. They strive to provide superior comfort, room amenities, service, and hospitality. This is a perfect hotel for you to stay in the Bhutan kingdom.
Services provided:
Widescreen TV
Room service
Bathtub
Laundry service
Alarm Clock service
Wi-Fi
Restaurant, Cafe, and Bar
Tariff:
INR 2,816 per person
Address:
Deki Lam, Thimphu, Bhutan
Contact No:
+9752333377
Website:
www.bhutansuites.com
6- Hotel Bhutan:
Hotel Bhutan is the best hotel designed to create an ambience that is warm, inviting yet modern. The staffs are courteous and attentive to provide the best services for the utmost comfort and happiness.
Services provided:
Airport pickup and drop
Local car arrangement for site seeing
Doctor on call
Bar and Restaurant
Coffee House equipped with serving quality
Free Wi-Fi
32'' LED TVs
Elevator
Room Service
Laundry Service
24 Hours CC TVs in all public areas
Wake up call
Tariff:
INR 2,453 per person
Address:
Chubachu, Thimphu, Bhutan
Contact No:
9752320444
Website:
www.hotelbhutan.com.bt
Travel and change of place impart new vigor to the mind!!
Thimphu is the happiest country in Asia and it is a temptation to visit at any time of the year. To help you kick-start with your holiday plan for Thimphu,
Kamakhya Bhutan
will surely offer you with the most reliable services throughout your journey.
---