Thimphu is the capital city of Bhutan which has balanced itself between the modern and the traditional to bring out the most of this charming city.
Thimphu- a city with a balance of old and new traditions
Thimphu upholds Bhutanís overriding sense of purity. It is the only world capital city with no traffic lights. It is the most happening and fun-filled places in Bhutan to visit. This place is usually found active during the day and hence you shall come across various places to visit in Thimphu. To get a closer look at Thimphu, Kamakhya Bhutan will give you the best opportunity for Bhutan attractions and sightseeing for a fulfilling vacation in Bhutan.
Best time to visit Bhutan
The most beautiful time of the year is during the months of March to May and September to November. These months are the peak season for the tourists as the skies are clear and the land is ablaze with beautiful colors of nature. Most of the festivals are celebrated during these months. Bhutan receives extreme rainfall during the months of June, July, and August which is better for traveling but not preferable for trekking. During the winter season in December, January and February are the best time to tour Thimphu and the weather stays cool and sunny.
Places to visit in Thimphu
Buddha Dordenma Statue- Buddha Point: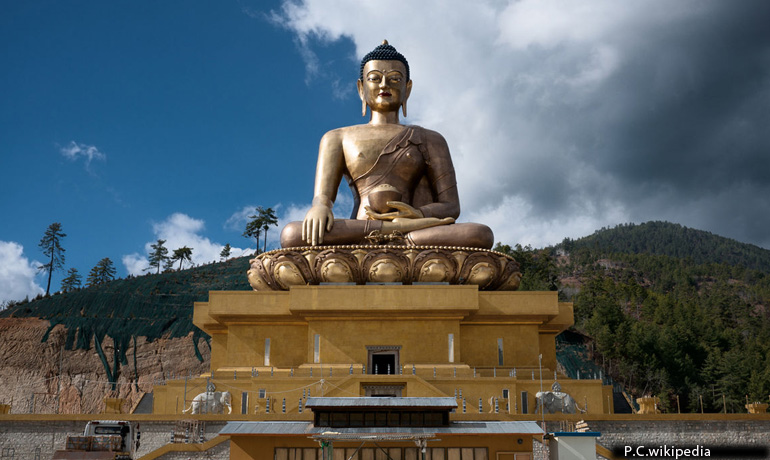 After traveling to Thimphu by car, you can reach Buddha Point within 20 minutes with an approximate distance of 7 kilometers. You can have a look at the gigantic Shakyamuni Buddha statue sitting on top of the hill with other smaller one hundred thousand statues. You will also get the view of the Thimphu city from the Buddha Point.
National Memorial Chorten: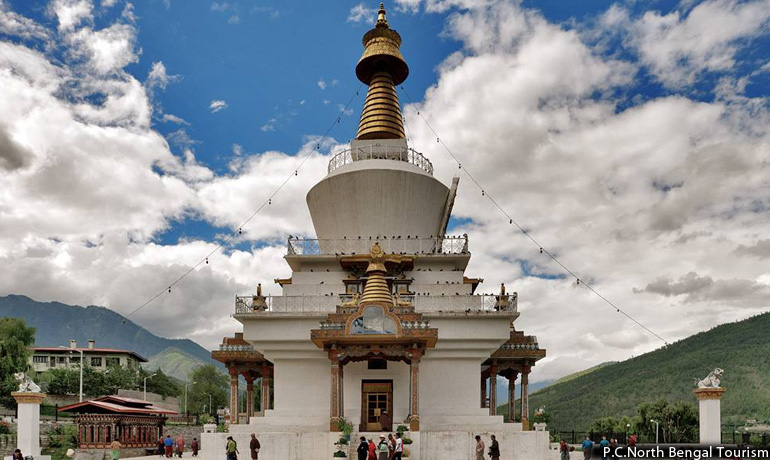 From Buddha point it is a 13 minutes journey with a distance of 6 kilometers, you will reach National Memorial Chorten. It is one of the Bhutan top attractions in the city with its golden spires and bells and is one of the most visible religious structures in Thimphu. Many festivals are held in the stupa during which it is circumambulated in a clockwise direction as the rule of any religious structure in Bhutan.
Preservation of Takin, the National Animal: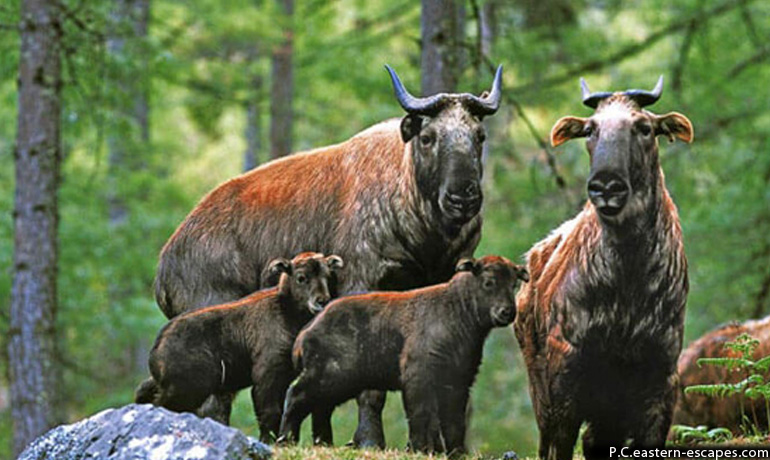 After National Memorial Chorten sightseeing, you have to travel for 5 kilometers for 12 minutes and you will reach Bhutan Takin Preserve. This is a wildlife reserve area for Takin, the national animal of Bhutan. Previously it was first a mini-zoo with few animals later it got converted into a preserve to look after the animals which were getting refrained from the forest.
Thimphu Institute for Zorig Chusum: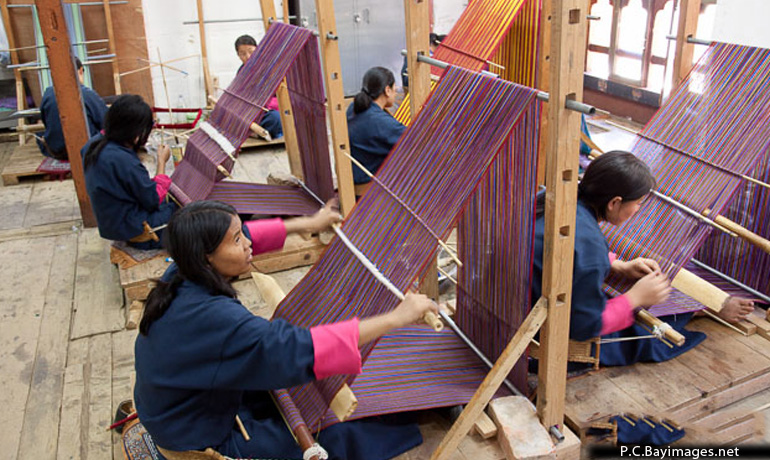 After seeing the wildlife of Thimphu, you can head towards Thimphu Institute of Zorig Chusum with a distance of 4 kilometers which will take just 9 minutes. It is a painting school which operates six-year courses that provide instructions in Bhutanís 13 traditional arts. When you enter the school you will see students working in wood carvings, sculpture, painting, and embroidery.
Tashichho Dzong: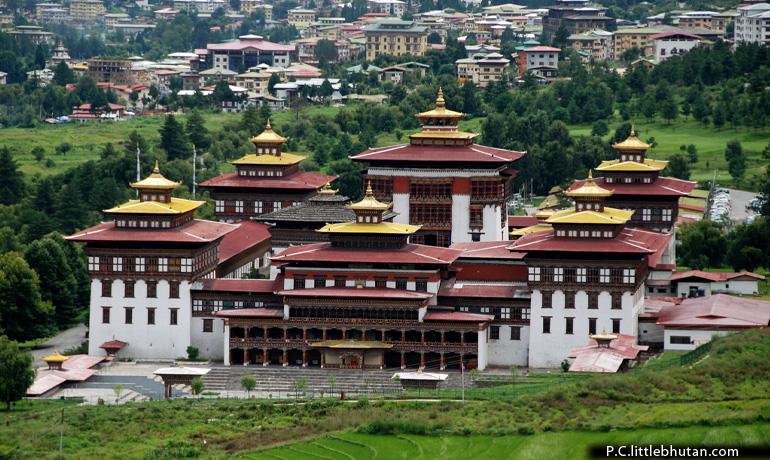 Leaving from Thimphu Institute of Zorig Museum, you can set your journey to another
famous Thimphu sightseeing
within 7 minutes at a distance of 3 kilometers is Tashichho Dzong. It is a Buddhist monastery and fortress. The whitewashed building is two-storied with three-storied towers at each corner of the roof. It also has a central tower or utse with a peach blossom tree outside the Dzong.
Centenary Farmerís Market:
After a spiritual travel in the city, you can go for some vegetable shopping at Centenary Farmerís Market. It is located at a distance of 4 kilometers with a time of 10 minutes. You can get various fruits, vegetables, herbs and spices in this market. It is a two story building with 400 stalls providing farmers to display their produce. The market is open all days of the week, from 7 am to 7 pm, except Mondays for you to buy products at cheaper rates.
Handicraft Bazaar: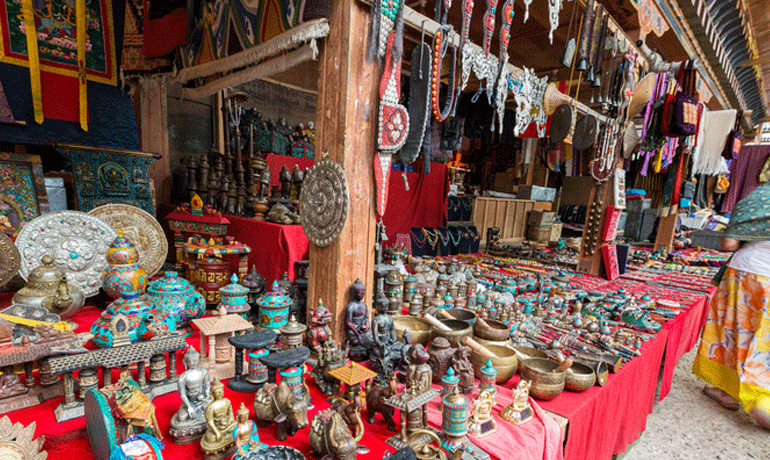 After vegetable shopping, you can head towards Handicraft Bazaar in 14 minutes with a distance of 7 kilometers. There are many shops where you can see prayer beads, wooden bowls, Buddha statues, handmade paper, etc. It is a line of simple bamboo huts specialized in Bhutanese handicrafts and souvenirs for you to buy traditional items as a remembrance of Bhutan.
Visit Thimphu, a city to explore happiness
If you feel tired of the noisy city, Thimphu is the best choice for you. It is a kind of city which will relax your mind and soul. It is far away from the sophisticated relationships between human beings. It is also the largest and capital city in Bhutan which has an unusual mixture of modern development alongside ancient traditions.
---