Bhutan's all festivals are known for its richness, vibrancy, and happiness!'
The ancient expressions of Buddhist culture and legendary victories are celebrated around the country with such pomp and festivals that it attracts visitors from around the globe.
Did you know most of the festivals of Bhutan are dedicated to Guru Rinpoche – the saint who introduced Buddhism in the early 8th Century? Interesting, no?
'Lotus Garden of Happiness'
The above-mentioned line refers to Pemagatshel. Perched at an altitude of 3500m, Pemagatshel is serene district which is located in southeastern Bhutan. The main attraction of this is over half of the small Dzongkhag is under the cover of coniferous forests and most of the remainder is farmland. Your Bhutan tour with family remains incomplete without witnessing the charm of this district.
The Speciality of Pemagatshel Dzong
What? It's a glorious festival. People all over the district come to this Dzong to be a part of its Pemagatshel festival. Different kinds of mask dances are performed together along with vibrant classical dances.
The History Lies Behind This Festival
The celebration of Tshechu has started in this region from the early 1980s with the construction of Dzong. Wow! Amazing, right?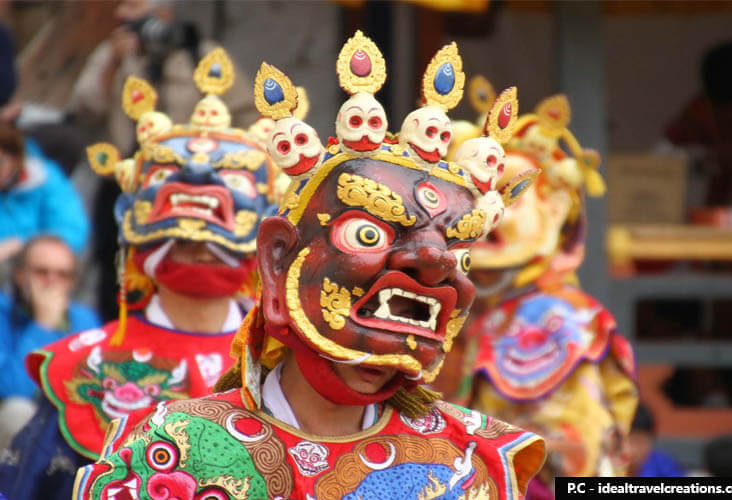 It Holds Remarkable Features…
• Folk dances and folk song are quite common during this period.
• Cham, a popular mask dance is performed which narrates the ways of Buddhism.
• The most notable folk song of this festival is the Ausa, a song that is sung during the departure of family members, friends, and relatives.
Duration Of This Festival…
This is a three-day event where people from the neighboring place as well as far away locations come here to enjoy.
Start Date- 10th November 2019
End Date- 12th November 2019
Significance of Pemagatshel Festival
• Mask Dances are believed to confer blessings upon the spectators and teach them the ways of the Buddhist dharma.
• Cham is also believed to provide protection from misfortune and exorcize evil influences.
• The festival is a religious ceremony from where you gain merit simply by attending it.
Convinced? Be a part of this upcoming festival by hiring the most trustable travel agency in Jaigaon for Bhutan trip and make your vacation memorable for the lifetime.
Popular FAQs
Q. Which are the other places to see in Eastern Bhutan?
A. The other alluring sightseeing places in Bhutan are Yongla Goemba, Kheri Goemba, and the Lektiri Goemba.
Q. What are the best hotels in Eastern Bhutan?
A. The best hotels to stay in Eastern Bhutan are Bumla Inn, Norphel Retreat etc.
---