Bhutan is known as the land of thunder dragon because of its violent storms.
This country is so small that it is half the size of the state of Indiana. It is aloof from all other countries of the world. It maintains its own culture and tradition. In the recent years, it has developed a lot and has synchronized with its culture as well as modernity.
Adventure sport is a fun thing in Bhutan these days. Winter is the best season when you can take up this adventure sport in Bhutan.
Here are ten adventure activities that you can do in Bhutan this winter:
1.Whitewater Rafting: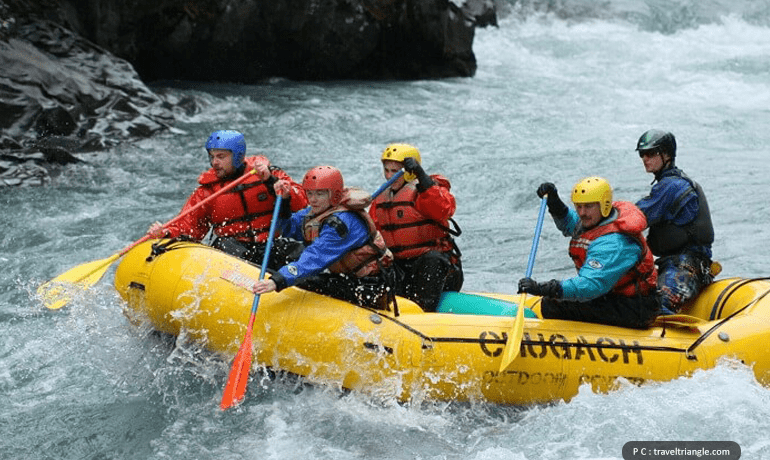 Row Your boat down the wild stream!
Description- Since 1950s river rafting is a popular sport all over the world. Its thrilling as well fun. People practice it in the white water Rivers and generally in a team. If you are planning to do river rafting then you must have basic knowledge about this sport. Without knowing anything about it you should never try this sport. This needs, a bit of experience, practice, and knowledge about the river.
Tips- Always wear a rafting outfit and a life jacket while doing whitewater rafting. Remember safety is the first priority.
Age- minimum 14 is the age to go for rafting.
Cost- Rupees 1000 per person approx.
Location- Khansum Yulley
2.Rock Climbing: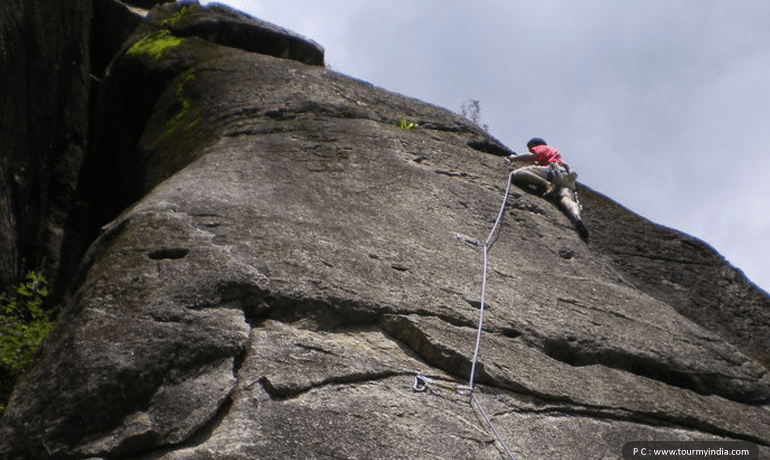 Challenge your climbing skills!
Description- This is a fun sport where you can climb a real mountain rock or artificial rock up and down. This tests your endurance skill and climbing skill.
Tips- Your grip and balance must be synchronized to perform Rock climbing.
Age- you should be at least 16 years old to climb a rock.
Cost- Approx 4000 rupees are the cost of rock climbing.
Location- The Nose, Thimpu
3.Walking on the Suspension Bridges:
Win your fear of heights!
Description- If you want to get a serious adrenalin rush just by walking over a bridge, then these Suspension Bridges are the best example. Walking through these swinging bridges is a serious task. People with a weak heart will just collapse.
Tips- Have a strong heart and mind set to take up this task.
Age- There is no such age limit.
Cost- No cost included.
Location- Punakha.
4.Kayaking:
Paddle your cannon through the wilderness of the river!
Description- This is a very dangerous adventure activity in Bhutan that you can take up. An alone kayak a midst the river seems really dangerous. If you have traveled alone, then you make like to do this adventure.
Tips- Safety comes first. Wear a proper dress for the water and keep everything waterproof.
Age- 15 years is the minimum age.
Cost- Rupees 10 thousand approx.
Location-Wang chhu, Sunkosh, Puna Tsang chhu.
5.Fishing:
Examine your patience, while you fish for a fish in the river!
Description- Only if you are patient and relaxed this adventure is for you. Sit down beside the river and wait patiently till the fish come and gets into your trap.
Tips- Be patient and handle fish with care.
Age- There is no minimum age as such but you must be at least 10 to do fishing.
Cost- Rupees 1000 approx is the cost of fishing.
Location- Haa, Thimphu, Punakha, Bhumthang, Manas.
6.Trekking: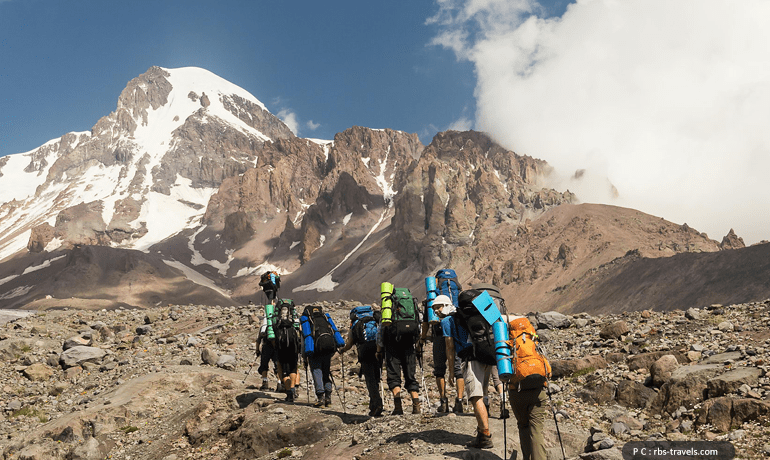 Is always good for the adventure in your blood!
Description- Bhutan is getting famous for its adventure tours. Trekking is one of the most adventurous as well as a thrilling experience. Nowadays many people visit Bhutan for trekking experience.
Tips- Your bag must contain all the necessary things you will need for your trekking trip.
As you are on an adventure be ready for the problems on road dont complain.
Age- At least 14 years is the minimum age for trekking.
Cost- 1500 rupees is the approx cost.
Location- Paro
7.Hot Spring:
Sometime you are allowed to relax when you are actually busy!
Description- While you are on a mountain trip, you will obviously get some hot spring there. The tour packages with family in Bhutan always take the family members to enjoy this soothing adventure. Adventure doesnt always need to be fearful, it can also be fun.
Tips- Wear something relaxing.
Age- minimum age is 5.
Cost- 1000 Rupees per person.
Location- Paro
8.Archery: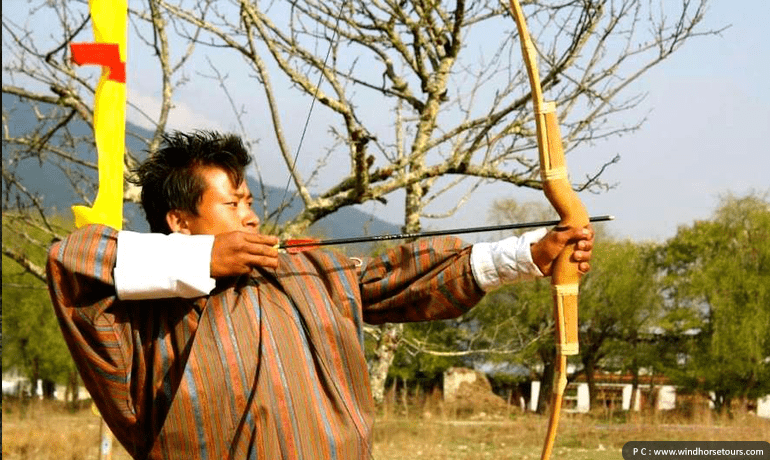 A must try the sport in Bhutan!
Description- It is the national sport of Bhutan and you must try this when you are there. It is fun as well as adventurous.
Tips- Have your bow and arrow.
Age- minimum 13 years
Cost- no such fixed cost.
Location- Villages beside Thimphu and Paro.
9.Mountain Biking: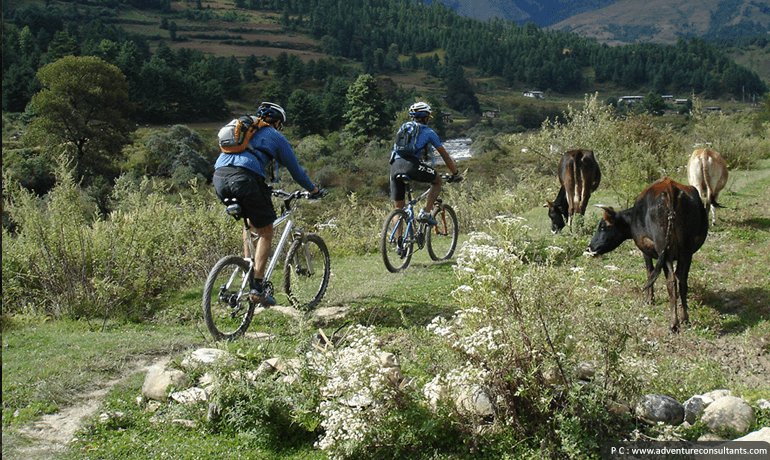 Feel the thrill in the wheels!
Description-This is fun and adventurous while you ride through the beautiful mountainous road of Bhutan.
Tips- Get a cycle that can climb the mountains.
Age- 15 is the minimum age to do Mountain biking.
Cost- There is no such fixed cost.
Location- Paro Valley, Phobjika valley.
10.Paragliding: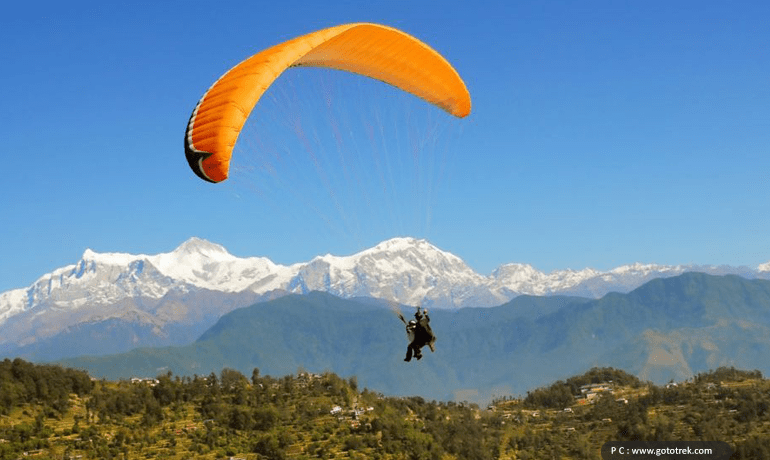 Feel like a bird!
Description- This is an extremely adventurous sport in Bhutan. You fly like a bird over the hills and forests. This is really fun.
Tips- Need to have a strong heart.
Age- Minimum 15 is the age when you can start paragliding.
Cost- 2000 rupees in the approx price.
Location-Kamshet, Ura Valley.
You might be really excited by now to do these adventure activities.
WHY WAIT? PACK YOUR BAGS FOR BHUTAN TO TRY ADVENTURE ACTIVITIES!
---